I have been lurking around here for the past couple of months, and decided it might be time for me to actually make a post. After 5.5 years of dateing I have finally decided to pop the question. I am a student so I'm not rich but I did manage to save a decent amount of money this summer to put towards a ring. 2 weeks ago I found THE diamond and had a custom setting made. I'm extremely happy with how it turned out!
The main reason for my posting is that I have noticed a lot of people confused about the different diamond grading establishments, and since my diamond came with both IGI and GIA certification, I thought I'd post the differences between them.
Both gradeings were very similar.
My GIA report was...
weight: 0.66 Carat
Polish: Excellent
Symmetry: Excellent
Clarity: VVS2
Colour: H
Measurements : 5.55-5.59 X 3.45 MM
and IGI Hearts and Arrows Diamond Summation
weight: 0.66 Carat
Polish: Excellent
Symmetry: Excellent
Clarity: VVS(2)
Colour: Near Colourless H
Cut Grad: Ideal
Measurements : 5.55-5.62 X 3.48 MM
So the only differences in it were slight variations in measurements, quite close overall! From everything I have seen, IGI seems to be Very similar to GIA when it comes to Round Brilliants. I'd still prefer a GIA, but just a little bit of comforting information for those of you with RB's that are graded by IGI.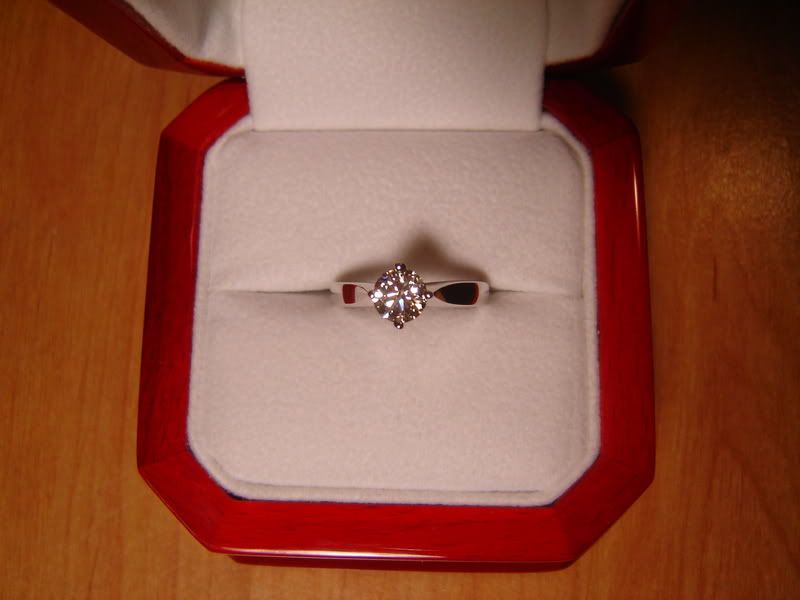 p.s. how does everyone take such great pictures of their rings on here? I tried for 20 minutes and these were the best I could come up with! might be time for a new camera!