Hi all!

I struggled with what to put with my 3 stone e-ring (a replacement for my original when it lost its stone), so maybe others out there are too. I hope this picture helps since I would have loved to see it when I was deciding what to put with mine.
I plan to get another for the other side on an anniversary.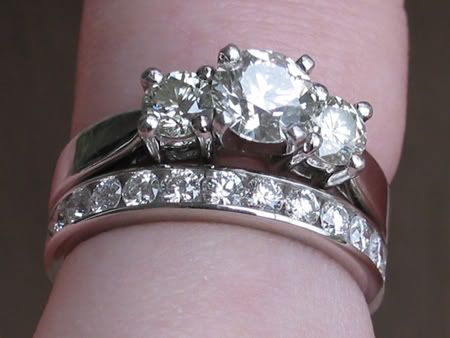 For reference, the three stone ring is .33, 1ct, .33 set in platinum. The band is 1.47 ct. Both are size 7.5. I LOVE how this ended up. I wanted to match the band size on the two rings and I was able to do that very easily without ever seeing it first.


I got the eternity band from www.signedpieces.com (on Ebay, but this store - Facets) and I could not be happier with the quality and service. He delivered as promised and was very easy to contact. The ring is absolutely flawless and the diamonds are just as promised per my jeweler. I was nervous about buying online, but what I saved and the great experience was well worth it! I would buy from this company again in a heartbeat.

Off to stare to stare at my new set...


(Oh, and thank you for all the great posts that I have been lurking on for a long while!)