Re: Little Baby Brownie Diamond I got for my B-day!



I'd love to design jewelry as a job--that would be a dream come true, but my current job (I'm a programmer for the university=state job=stable but very little pay) feels more safe to me. I dunno, maybe after my husband's humongous school loans and car are paid off, it would be safe for a career change. I do make a lot of wire/bead jewelry that I sell at a store in Austin and I also cut gemstones, but nothing serious at all. It would would be a dream job for me to work in the jewelry industry.

I'm thinking this'll be a Christmas project, but I sure am itching to get this done! I have nice idea how expensive getting something made like this would be. I'm guess the ring will have to be cast since I don't see any ready made mountings floating around the web that look like this. Here's my final sketch with the side stones: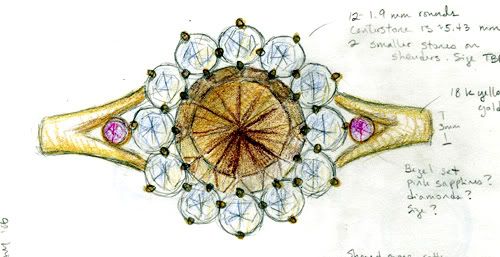 Distant cousin to kleinkath's ring...that's so cute, SNooper! I love it!